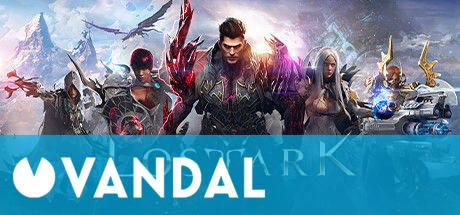 Lost ark is a video game of 3D multiplayer role-playing game with a classic perspective in the way of Diablo, specifically designed for the South Korean market, which adds a number of unique features to combat and gameplay to make it more strategic and deep thanks to the personalization. Designed for PC, it is one of the most played video games of the genre in the world thanks to its legions of Asian fans.
A world in chaos
Lost ark takes us to a fantasy world and science fiction plunged into chaos. The demon Kazeros and his army opened the Gates of chaos and through six great legions they have decided to invade the world and enslave all the races that have existed and will exist. The prophecy, in its darkest interpretation, has materialized. Without heroes, without salvation, our mission will be to recover Ark, an artifact lost at the dawn of time and has already defeated demons once. Thanks to a epic story, we will explore different scenarios collecting coins, clues and elements that will take us there while we fight against demons and their armies.
Diablo-style action and role-playing games
Lost ark It has a series of mechanisms very similar to those of the Blizzard saga. Combining dark fantasy and science fiction RPGs, it will invite players to follow a story or explore a world full of missions, threats, creatures, dungeons and other dangers, alone or accompanied. The game offers much freedom What MMO to discover the landscapes, on foot or aboard a boat, looking for different routes and constantly offering us dozens of possibilities to obtain objects and experiences that make us stronger. In this aspect, Lost ark they look alike and have a lot in common with games like last connection.
The video game offers a large number of courses. We meet the usual pros of any role-playing video game, from magician to archer and similar melee aspects, but each of them has a small tree of more specific variations and versions. Class warrior can become Berserker, Destroyer, or Warlord. The Mago a Arcane, Summoner, or Bard. The Gunner, in Hawkeye, Devil Hunter or Blaster. La Assassin a Shamanking, pirate or shadowWhile Specialist a Astrologer, Musician or Alchemist. Finally, the class Fighter, can become Battle Master, Infighter and Force Master. With this customization, each player can find their style of play and role in combat and the title itself, presenting a very different gameplay. As we gain experience, we can invest it in Fight, life and exploration, which will help us get an idea of ​​our level in general and our progress in the video game.
.

A game highly recommended to all fans of the game is Lost Ark. This game becoming more and more popular with his fans and those who decide to try it. And it is known that carrying out a game of Lost Ark is spectacular.
In the following guide you will find information with which to start playing Lost Ark can be much easier. In addition, it contains everything you need to know to get started in the game without having to be a fish out of water, because although you may not end up being an expert, at least you will learn the essentials.
When is the premiere of Lost Ark?
Fans of Lost Ark are getting ready for the launch of the game soon to happen in release date, which you can enjoy in consoles-available. With excellent video game possibilities, the premiere of the video game is expected to be able to try all the novelties that it will bring.
4 tips that will help you for Lost Ark
Undoubtedly, it is good then to take into account some tricks you can get closer to being better when Lost Ark is released. Here are a few.
Increase your experience and level up: Advancing and standing out will open doors and you will gain an advantage over the rest of the players. In this way you will overcome and improve the potentialities of your character, as well as your skills.
Identify the best Lost Ark tools: The phrase "Knowledge is power" is totally true. Knowing in detail what the game tools are, what they are for and when they can be used, makes it possible to provide a timely response to situations that may arise while you play.
Try several ways to play: Sometimes a way to play It works for us, but by experimenting with new options you will be able to find ways to improve and to achieve the objective with greater skill.
Customize controls and settings: Change the resolution, controls and those settings that you can to make the games easier. Accommodating the controls gives you the ability to tailor the game to your needs so that your results are more effective.
Platforms on which you can enjoy Lost Ark
Fortunately, this video game It can be played on different consoles and on a computer, then, there is no pretext to stop testing the new features that will be released. Some of the options that will be obtained to play it on console are PlayStation y Xbox, with which the possibility of play with other players online or create games at home if it is to your liking.
In the same way you can play in the cloud via platforms like Steam and Stadia on PC. Using these you can do without the most modern console or a computer with advanced features to play super fun games
.
The main intention of premiere in the various versions is that the game reaches the widest possible audience and that also, enjoying with other people is easy and fun. According to your preferences, you can choose one of the versions that Lost Ark offers you.
And if you can't have all the versions you want and you have to go for just one, don't worry, each of the versions have great fun and the guarantee that you will enjoy incredible experiences both individually and in groups.
Through these means you can acquire Lost Ark
If you wish to get Lost Ark, you just have to go to your preferred store, to that where you always go. After the release date has passed, you can find it on all available consoles at an affordable price.
For real gamers, it is always better to use the original version of video games. In this way, they collaborate with the development of more video games and support the big franchises.
But physical establishments are not the only way. If you do not have any establishment nearby, or you simply do not feel like leaving your home, you can get them at online stores is online platforms.
It's that simple, without leaving home, you can complete your purchase online so that it arrives directly to your home or simply download it and install it on your computer.
In addition to the video game stores, there is the option to play under a subscription package. In this case, you are not buying a game itself, but the right to use a wide variety of games for a fixed period of time. This is the case of Stadia or Steam.
The advantage of using platforms is that getting the subscription can be much cheaper than the console versions, and the experience can be much better.
Learn to play Lost Ark
We all start out as inexperienced every time we try to do something different, no matter what prior knowledge we have in other areas, starting something from scratch always causes a different feeling, but relax, with practice you become a specialist.
As we have already told you, it is necessary to practice in everything that you hope to make perfect. This time, video games. The more you practice, the better you can decipher Lost Ark cheats. That being the case, if what you are looking for is be the best Lost Ark player, then we hope you start practicing, with discipline you will achieve it.
Another thing that can help you in good shape is observe the strategies of your rivals. Guessing the opponent's movements and studying their tactics can put you closer to discovering their weak points. You will be able to discover what it does right and wrong. Also, you need learn the behavior of your enemies. Whether they're NPCs or real players, they all use skills and tactics that, if you learn them, you can figure out how to defeat them with ease and be the best.
If you can study them properly, you will be able to find their weaknesses and you will be able to take advantage of their faults. Understanding the opponent gives you a certain advantage over him.
But not everything revolves around studying your rival. An essential thing to grow regularly is to know yourself. Find out what we do wrong and work to improve it day by day. Even when you think you are doing everything perfect, there is always a way to improve it.
As soon as you analyze the other players you can get their strengths and weaknesses. The best thing you can do is take everything they add for yourself, it is not exactly about doing their strategies exactly the same, but about learning from them and adding your own style to them.
Lastly, don't play crazy, push yourself into your tactics and set yourself short-term goals. In this way you will be able to achieve your goals little by little. If you follow these tips, you will be closer and closer to being the best in Lost Ark.